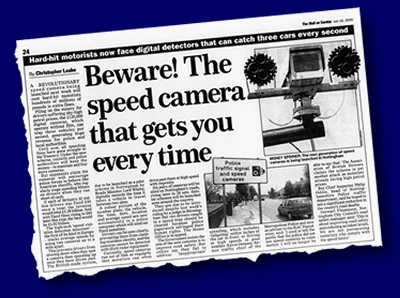 Beware! The speed camera that gets you every time.
By Christopher Leake
Hard-hit motorists now face digital detectors that can catch three cars every second.
A revolutionary speed camera being launched next week will cost hard-hit motorists hundreds of millions of pounds in extra fines. Piling on the misery for drivers suffering sky-high petrol prices, the £120,000 digital cameras, which operate without film, can trap three vehicles per second, generating huge revenue for police and local authorities.
Until now, all speeding fines have gone straight to the Treasury. Under the new scheme, councils and police authorities will keep the money - to maintain and buy more cameras.
But opponents claim the cameras will encourage police forces to behave like American sheriffs, who regularly stage speeding blitzes on drivers when they run short of cash.
If each of Britain's 32 million drivers was fined £40 once a year, the revenue would total £1.28 billion. And with fixed fines rising to £60 later this year, the haul would be £1.92 billion.
The high-tech 'speed violation detection deterrent' - the first of its kind in Europe - tracks average speeds by using two cameras up to a mile apart.
This prevents drivers from slowing down when they spot a camera then speeding up once they have driven past. The British-made system, due to be launched as a pilot scheme in Nottingham by Roads Minister Lord Whitty, digitally records the time it takes a vehicle to travel between two sites.
A colour picture of the number plate, the vehicle, the time, date, location and average speed are sent automatically to a police computer which will send out fixed penalties.
Drivers can be seen clearly, preventing them from claiming mistaken identity, and the cameras cannot be detected with illicit radar equipment.
Currently, speed cameras run out of film so regularly that motorists can often drive past them at high speed with impunity.
Six pairs of cameras will be sited on Nottingham's roads, rising later to 18 sets. Similar schemes will be launched soon throughout the country.
They are due to be introduced despite last weeks ruling by a judge in Birmingham that two drivers caught in a speed trap should be cleared because police paperwork infringed their human rights. The Home Office is to appeal.
The Government insists the aim of the new cameras is to improve road safety. But critics say they fail to address 'inappropriate' speeding, which includes 'tailgating' within inches of the car in front, or driving at high speeds in poor weather. Kevin Delaney, former traffic chief of the Metropolitan Police and now an advisor to the RAC Foundation, said: "I used to tell the public that the Police did not use speed cameras to raise money. I will no longer be able to say that." The Association of British Drivers claims the scheme is yet another attack on motorists already facing high petrol prices.
But Chief Inspector Philip Oddie, head of Nottinghamshire Police Traffic department, said he hoped to see a significant reduction in the county's road deaths.
Stewart Thompson, Nottingham City Council's road safety manager, said: "This is about improving road safety and reducing accident levels. We are not persecuting motorists who comply with the speed limits."
© The Mail on Sunday