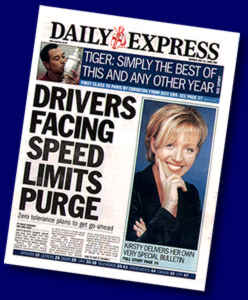 DRIVERS FACING SPEED LIMITS PURGE.
By Roger Harrabin and Greg Swift
Zero tolerance plans to get go-ahead.
Motorists caught speeding just one mph over the limit face fines or court action after an embarrassing U-turn by police chiefs.
Earlier this year the Association of Chief Police Officers announced it intended to allow drivers to break speed limits by a fixed amount before they faced prosecution.
But safety campaigners Transport 2000 accused the association of re-writing traffic laws - which are statutory controls - and threatened to sue.
With the prospect of potentially damaging court action, the association has backed down, returning to its previous position of leaving the issue of excess speed to the discretion of officers on the ground.
It means that a driver doing 33mph on a wet day outside a school could face a court summons, while that person going at 38mph on the same road at midnight might get away with a fixed penalty
Kenneth Williams, Chief Constable of Norfolk and chairman of the association's traffic committee, said: "We are now providing clear guidance to police on the need for enforcing speeding offences strictly but fairly, and to the public on the risks of facing formal action at illegal speeds close to the legal limit."
Welcoming the climb-down, Lynn Sloman of Transport 2000 said: "Tougher enforcement will save lives. Britain has one of the worst child pedestrian child death rates in Europe, with nearly 100 children killed or seriously hurt every week. In order to cut this dreadful toll we need drivers to reduce their speed."
Motorists have found themselves coming under increasing attack from the Government with rising fuel prices, the threat of road tolls and Home Secretary Jack Straw's plan to allow police authorities to share money from speeding fines.
But Mr Straw suffered embarrassment last week when his Jaguar was caught speeding at 103mph on the M5. A supporter of "zero tolerance" on speeding, he was being driven by a Special Branch officer.
It also emerged yesterday that the Government's determination to tackle Britain's "yob culture" is to move to the road.
Ministers are considering a scheme to which could see drunken yobs stripped of their driving licences. Offenders responsible for violence, vandalism or public disorder could face the sanction in addition to fines and possible imprisonment.
It is thought that for young people with relatively high disposable incomes, a "lifestyle sentence" such as a driving ban or a ban from licensed premises could be a greater deterrent than a fine. The police association's U-turn is the latest in a speed limit enforcement row that began last September when its former traffic chairman Paul Manning told Radio 4's Today programme that he wanted to move towards zero tolerance for drivers breaking the 30mph limit in urban areas where children are most at risk. His comments were backed by the Home Office Minister Charles Clarke, who said "Thirty should mean thirty." But motoring correspondents condemned the move as being anti-car, and Mr Clarke was slapped down by Downing Street.
In February the association relaxed its position and said drivers should be allowed 10 per cent above each speed limit to keep their goodwill. In practice some forces are tougher on speeding than others.
Although a survey for the Government's crime and disorder audit showed road safety to be a key public concern, the Metropolitan Police did not enforce the 30mph limit until cars were doing more than 42mph.
© Daily Express