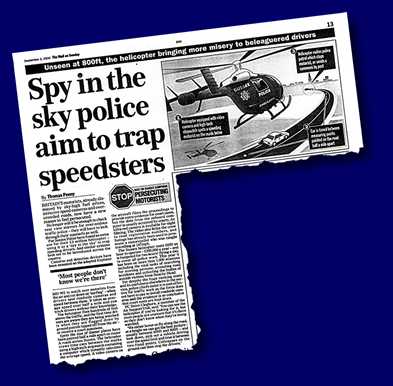 Spy in the sky police aim to trap speedsters.
By Thomas Penny Unseen at 800ft, the helicopter bringing more misery to beleaguered drivers.
Britain's motorists, already dismayed by sky-high fuel prices, intrusive speed cameras and overcrowded roads, now have a new reason to feel persecuted.
No longer will it be enough to check rear view mirrors for over-zealous traffic police - they will have to look through their sunroofs as well.
For Sussex Police have found an extra use for their £3 million helicopter - using it as a 'spy in the sky' to trap speeding drivers. And similar systems look set to be introduced across the country.
Cameras and detection devices have been mounted on the adapted Explorer MD902 to watch over motorists from the air and cut down on 'surfing' - when the drivers spot roadside cameras and speed between them. It takes an average speed over half a mile and can track drivers without their knowledge.
The helicopter flies hundreds of feet above the traffic, and the first time drivers are aware they are being watched is when they are flagged down by ground patrols tipped off from the air - or receive a court summons.
Spots the size of dinner plates have been painted half a mile apart on major A roads across Sussex. The helicopter crews time cars between the marks using a high-tech stopwatch containing a computer which instantly calculates the average speed. A video camera on the aircraft films the proceedings to provide extra evidence for court cases, but the data from the onboard computer is usually accepted by courts. An infra-red camera is available for night filming. The video also helps the crew to read registration numbers, and footage has already been used to prosecute a motorcyclist who was caught travelling at 147mph.
The Sussex helicopter costs £650 an hour to operate - £500,000 a year - and is budgeted for two hours' flying a day, to cover all police work. This year it has been on more than 1,000 missions including the vital tasks of searching for missing persons, attending road accidents and collecting the bodies of suicide victims from Beachy Head.
Yet despite the huge running costs and its usefulness elsewhere in the service, police chiefs insist it is cost effective for traffic work as the force does not have to pay to install roadside cameras and the evidence is so conclusive that court costs are kept down.
PC Steve Cleghorn, a member of the Air Support Unit, said: 'You can see the helicopter if you're looking for it, but most people are unaware that it's there so they don't know when they are being watched.
'We either hover or fly along the road, at a height we can get the best picture - usually between 600ft and 800ft - and look down, pick out a vehicle driving over the speed limit and time it between two fixed points. Colleagues on the ground can then stop the drivers.'
© The Mail on Sunday