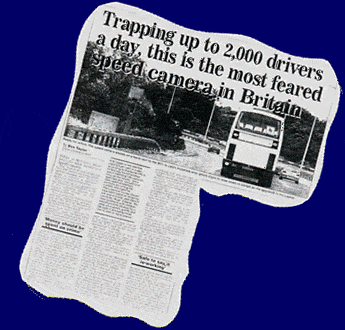 Trapping up to 2'000 drivers a day, this is the most feared speed camera in Britain
By Ben Taylor
A New Speed Camera is ready for action !
This is Britain's most prolific and lucrative speed camera. The feared device traps up to 2'000 motorists a day at an extraordinary rate of more than a vehicle a minute, police revealed yesterday. That adds up to a jackpot for the Treasury of £840'000 a week if the speeding drivers are traced and stump up the minimum £60 fine.
The all-powerful camera looms over the southbound carriageway of the M11 at Woodford, Essex, near the junction with the North Circular Road.
Onlookers have told how its constant and mesmerising flashes were reminiscent of a light spectacular when it was launched recently. Another nine devices are due to be up and running by the end of this year as part of a Government pilot scheme to reduce deaths at accident blackspots.
The new camera's extraordinary success rate far outstrips ordinary roadside devices. Many are not operative and net an average of just £4'000 a year. The Daily Mail has reported how Essex Police raised an average of £10'000 and caught 250 drivers a day from its speed cameras before the M11 device began operating. The new camera is part of a trend to target motorways where there is the potential to catch thousands of motorists.
The ESSEX Crime rate has risen 5. per cent in a year according to the Home Office. Critics say that £4.5 million spent on installing 100 cameras through the country since April last year should have been spent elsewhere perhaps cutting the number of burglaries. 'Many feel the money should have been spent on stopping antisocial crime,' said district councilor Hugh Cleaver. 'We have problems with children stealing mobile phones from other youngsters, graffiti and type of annoying crime that is seen in many places.'
An Essex Police spokesman said: "Since the scheme started, it has caught 70'000 speeding drivers. It is safe to say these cameras are working. "We have had letters from motorists angry at the cameras but once they realise we are trying to improve road safety they tend to accept our efforts. "The main aim is to reduce road injuries and deaths but it is also hoped to ease congestion at peak periods".
One mile before the Woodford camera begins surveying the road, there is a sign telling motorists the speed limit will drop from 70mph to 50mph. Police feel this gives drivers ample time to slow down and claim speeds will drop once people are aware of the camera. However, Kevin Delaney, of the RAC foundation, said: "Many motorists regard speed cameras as ways by the police of raising money. There is growing concern that they are just being used as revenue raisers. "If there was such a problem at this particular site, why did the Police wait so long before doing anything, and why did they go straight for the camera option?"
Other critics have branded the devices "electronic roadside muggers" and say the Police have stopped judging every case on its merits. In 1999, 108 people were killed on roads in Essex. Last year, this dropped to 86 and in the first five months of the year, there were 39 deaths. Nationwide, there are 4'300 speed cameras. Last year, the Daily Mail revealed the number is due to soar to 10'000.
The fixed penalty has also been increased by half from £40 to £60. Currently, all the proceeds go to the Treasury, which netted £16.9 million in 1999 from 423'000 drivers caught by cameras in England and Wales. In future, however, police forces can claim a proportion of the amount, meaning the more speeding drivers they catch, the higher their revenue. The cash flow will be based on the number of tickets issued in the year before the change.
Over the next two years, forces will be able to keep all the money from fines above that total. The police have also started investing in £120'000 digital cameras which do not use film but can store details of 50'000 speeding motorists and download their records to computers to print out penalty tickets. This week, it emerged that thousands of motorists across Britain were wrongly fined £60. Many were issued speeding tickets for times when they were abroad or in another county.
© The Daily Mail