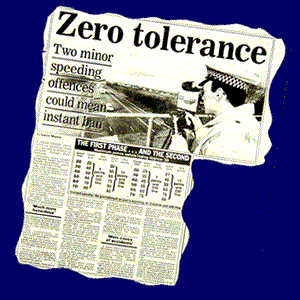 Zero tolerance - Two minor speeding offences could mean instant ban
By Lucie Morris
A 'DRACONIAN' crack down on speeding could see record numbers of drivers losing their licences
Motorists twice caught going only 10mph above the 70mph speed limit would face a ban.
The 'zero tolerance' regime would cost the taxpayer millions in extra policing and court charges. Last night the RAC branded the Government proposals as 'hazardous' and 'unrealistic'.
Kevin Delaney, the RAC's highway manager said motorists would become so concerned about breaking the limits that they could actually cause accidents. He added: 'This will be seen as highly draconian by millions of motorists. Drivers will respond by spending more time looking at their speedo than concentrating on their driving, with obvious implications for the safety of all other road users. The concentration on excess speed is potentially much more hazardous.'
Britain has the lowest road traffic accident rate in Europe. But the Government wants to find further ways of reducing fatalities.
Drivers are not usually prosecuted for driving at 75mph on motorways, where the speed limit is 70mph, as a matter of 'goodwill' by police. Under the current plans, however, a motorist would be fined £60 and given seven penalty points. Being caught three times would result in an automatic six-month ban.
The system under consideration - outlined in the Home Office Document, Road Traffic Penalties - would involve a reorganisation of the penalty points system.
Although the maximum points for disqualification would rise to 20 from the current 12, a tough 'totting' up procedure would lead to driver being banned more easily. Changes would be introduced in two phases.
In each phase, there would be a fixed penalty for 'modest speeders' and a harsher punishment for worse offenders. In the first phase, anyone caught at 40mph in a 30mph zone would get 5 points - and 12 points for 55mph.
The second, more severe phase would see anyone caught at 75mph being given 7 points. A driver caught doing 80mph would get 15 points. So if they were caught twice they would be banned for at least six months.
New technology would have to be bought in to enforce the laws. Traffic officers would be given new training. Official figures show many drivers regularly go more that 15mph over the 70mph motorway speed limit.
A home office source said: 'Speeding is the main cause of accidents. We need to carefully consider ways to effectively stop people breaking the limits.'
Andrew Howard, head of road safety at the AA, said: 'We don't know yet if these are going to be in force as they are only illustrative guides. But there really is enough going on and plenty of limits and cameras around without the need for more people to be prosecuted.'
Roger Vincent of the Royal Society for the Prevention of Accidents said although speeding causes 70 per cent of accidents it was important for motorists not to feel 'persecuted'.
A Home Office spokesman said it was waiting for a 'full response' to the proposals. 'Once the responses have been considered we will then consider the next stage.'
Last week the Daily Mail reported that an increase in the use of speed cameras could save hundreds of lives a year. But motoring organisations warned that councils, police and Government could use the safety argument as an excuse to install hundreds of hidden cameras, aimed principally at raising revenue rather than cutting accidents.
THE FIRST PHASE . . . . . AND SECOND PHASE
Maximum points before losing licence: 20

Speed Limit
Speed up to
New penalty
Speed up to
New penalty
Speed Limit
Speed up to
New penalty
Speed up to
New penalty
20
25

5 points and £60 fine

30

12 points and £90 fine

20
23

7 points and £60 fine

27

15 points and £90 fine

30
40
55
30
35
45
40
50
65
40
45
55
50
60
75
50
55
65
60
70
85
60
65
75
70
80
95
70
75
85

Current penalty : No punishment or just a warning; or 3 points and £60 fine
© The Daily Mail