Note: The products in this article are no longer available, for the latest products visit Road Angel UK.
---
Road Angel is building on past successes with the New Road Angel 2 which delivers even more functionality in a very attractive package, form and function are the design criteria for this new model of the very popular GPS safety device that is endorsed by Tiff Needell.

Every day use of the New Road Angel acts as an extra pair of eyes, as long as the Road Angel can 'see' 3 satellites it will know it's precise location on the Earth and will be able to reference that against it's internal databade to keep you alert to approaching danger/hazard areas and hence improves the safety of every journey. It is also very simple to install and update.
Using the latest global positioning satellite (GPS) and laser detection technology, Road Angel constantly gives you an accurate speed reading and an audible and visible alert as you approach hazardous sections of the road.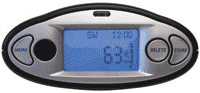 Another safety feature is the RescueLoc function which gives you a pinpoint GPS location reading to help direct rescue services to your position.
It's a compact unit so it can be mounted on a windscreen or dashboard and simply plugged into the cigarette lighter. While using the New Road Angel, it has a good sized backlit LCD panel that is normally blue and flashes red on the approach to a hazard while giving verbal warnings of the type of hazard.
With new fully integrated GPS and Laser technology, Road Angel alerts you to: accident blackspots, safety cameras (including Gatso, TruVelo, SPECS, Watchman, Speedcurb, DS2) and mobile laser guns; with an audible, visual and voice alerts.
Features of the New Road Angel
Compact size
GPS coverage
Hazard type indicator
Clear blue/red LCD screen
Clock
RescueLoc, location finder
Large easy touch buttons
Overspeed warning
Anti reflect hood
Integrated laser detector
Slow speed auto mute
Audible warnings
Winscreen mounting bracket
Motorcycle compatible
Continuous speed reading
Countdown proximity bars
50,000 location memory
Complete UK coverage

Benefits of the New Road Angel
Simple windscreen or dashboard mount and plug & go installation
Easy to position in any vehicle in direct line of sight
High visibility speed, time and compass display
User programmable locations
Full range of hazardous sites
Audible and visual warnings

LASER DETECTOR ALERT SYSTEM - mobile camera alert
A powerful front and rear Laser detection device, LASER DETECTOR ALERT SYSTEM detects mobile Laser signals and gives an audible and visual alert through the ROAD ANGEL display.
RescueLoc - additional safety feature built-in
If you break down and don't know exactly where you are, you can find your precise latitude and longitude co-ordinates at the press of a button on your ROAD ANGEL display. This can then be passed on to your rescue service.
New Road Angel has - comprehensive database
Capable of storing up to 50,000 unique sites, your ROAD ANGEL is pre-programmed with all the latest data. Updated and verified continuously, the central database can also be easily personalised to include information specific to you.
New Road Angel has - no false alerts
Unlike many radar products, which are constantly triggered by false alarms,
New Road Angel will - only respond to designated hazards.
New Road Angel is - simple and effective
Easy to install, designed to provide all the information at a glance
For a Road Angel distributor phone 0161 355 1275