To automatically decode spark plug numbers from several manufacturers, use this Spark Plug Decoder app.
An explanation of an NGK spark plug number
BCPR6E-11
B = Thread Diameter = 14mm
C = Construction = Hexagon size = 16mm
P = Construction = Projected insulator type
R = Construction = Resistor type
6 = heat rating (2 = hot - 11 = cold)
E = Thread reach = 19mm
11 = Gap width (8 = 0.8mm - 20 = 2.0mm) = 1.1
Another format
PFR6A-11
P = Plug type = Premium platinum
F = Metal shell size = 14mm diameter - 19mm reach - 16mm hexagon.
R = Construction = Resistor Type
6 = Heat rating
A = firing end construction = special design.
---
NGK Iridium Spark Plugs

Iridium is a precious, silver-white metal and one of the densest materials found on earth. The natural properties of Iridium offered NGK the opportunity to create one of the world's finest spark plugs. The result are spark plugs that require less voltage to spark, burns fuel more efficiently, sparks at leaner air/fuel mixtures, and delivers higher horsepower and better gas mileage.
NGK offers two choices of this precious metal plug:
The Iridium - A high quality iridium plug installed as original equipment (OE) in the automotive industry since 1994, and the new Iridium IX® - The ultimate evolution of a performance spark plug. Now available for the Porsche 968.

Iridium IX Spark Plugs are the most technologically advanced high performance plugs available. Featuring a 0.6 mm iridium center electrode tip, they offer superior ignitability without sacrificing durability. The tapered ground electrode increases flame kernel expansion, while the superior heat range design is ideally suited to the demands of high performance environments. Specially designed to meet the needs of serious enthusiasts, Iridium IX Spark Plugs offer outstanding acceleration, high fuel efficiency and long life. When you demand the most from your engine, rely on the proven performance of NGK Iridium IX Spark Plugs.
NGK's new Iridium IX is the personification of these qualities and takes premium performance spark plugs to a new level. A level that is expected from the world leader in spark plugs.

Some facts about Iridium
Iridium is an extremely hard metallic element that is brittle and it's colour is white, it's symbol is Ir and has an atomic number of 77 with an atomic weight of 192.22 and a specific gravity of 22.6. Iridium has a melting point of 2410°C.
Being extrmely rare it is only 77th on the list of abundant elements from the Earth's crust.
Mainly used as an alloying material for platinum; with a 10% Iridium content the alloy is much harder than pure platinum. Platinum alloys containing larger quantities of Iridium are used in making precision instruments, surgical tools, pen points, and standard weights and lengths.
Iridium was discovered by the British chemist Smithson Tennant in 1804 and was named for the iridescent nature of some of its compounds.
---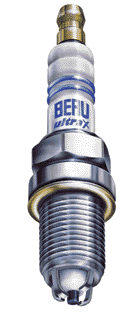 Beru Ultra and Ultra X Spark plugs.
Technical Features
Reliable ignition:
Double ignition reliability due to air-surface discharge technology
Sparking improved by four earth electrodes arranged in pairs in an X-shape.
Powerful:
Optimal combustion due to protruding spark position
Reliable cold starting:
Self-cleaning function due to variable sparking paths
Reliable:
Ideal operating temperature reached quickly due to conical insulator nose
Environmentally friendly:
Pollutant emissions minimised and catalytic converter protected due to effective combustion
Dependable:
Due to resistance to electrode erosion and interference suppression resistor.

The air-surface discharge spark plug with nickel sheathed copper core and 4 ground electrodes arranged in pairs in the form of an X provide maximum ignition reliability in all operating situations.

The multifunction principle for optimal ignition reliability: various principles of operation are available for the formation of the sparking path - air discharge, surface discharge and combined air-surface discharge. At the same time, the 4 ground electrodes are offset in height in pairs. On the left the path to one of the two lower electrodes can be seen, (surface discharge), on the right the two possibilities on one of the upper electrodes (air discharge and air-surface discharge). In this way there are six different paths for the ignition sparks.