Key Fobs
If you have a faulty key fob or just need to replace a lost one, try our 4 in 1 Key Fob remote, you can teach it the frequency for almost any alarm.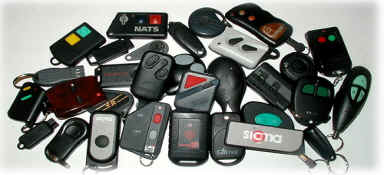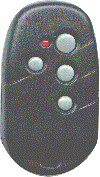 4 in 1 remote
Works with most fixed codes.
Self learns from your remote
Can operate 4 different devices
Each button can replace different remote
Works with car alarms, garage doors and gates
Intelligent programmable multi-purpose replacement remote control
RRP £44.99 + p&p
The 'RC02' is the ultimate spare remote for a group of cars, e.g.... sales forecourt cars, family or house hold, car alarms, garages, electric gates, etc.. nearly any fixed code remote controlled application.
Don't have 2 or 3 different remotes on your set of keys, just have one, this unit can be programmed to 4 different devices.
There are 3 types depending on the frequency of your original remote control.
Frequency ranges...
RC00 :150 ~ 200 mhz for low frequency garage/gate remotes
RC01 : 200 ~ 250mhz for low frequency garage/gate remotes
RCO2 : 250 ~ 455mhz - all remotes
Power : GP23A 12v battery, easily replaceable.
Dimensions - W : 35mm / H : 12mm / L : 65mm
Please ensure that your current alarm is a fixed code, some original equipment alarms will be rolling code, Rovers and Land Rovers are one example.
Whether ordering an RC02 or wishing to enquire about any other replacement keyfob please follow the instructions below.
Due to the huge number of different key fobs available on the market we will need to know as much about the current key fob you wish to replace as possible, please try to find the following information and complete the form below.
(Due to the large number of enquiries we receive it is not always possible to take these details over the telephone and for speed and accuracy or quotation, completing the form below is the best way to contact us)
Unfortunately we no longer offer this service.