A new type of car crime is beginning to emerge where Radar Detectors, GPS and Satellite Navigation equipment is stolen from vehicles. Stoplock have created the strongbox to lock up your valuables when you're away from your car.
March 2006: Hungerford: Government statistics recently released show that more than 2.2 million vehicles now have Sat Nav devices fitted. The vast majority being those that are bought off the shelf and mounted on the dashboard of the car. Costing up to £600 these devices are now the target of thieves nationwide. Even if the unit is removed from the dashboard, the tell tale sucker marks left on the windscreen alert thieves that the unit is probably easily accessible in the glove compartment. Consumers need to take active steps to not only hide Sat Nav units but also protect them from the opportunist thief. Stoplock, market leaders in vehicle security have come up with the solution.
STOPLOCK® Strongbox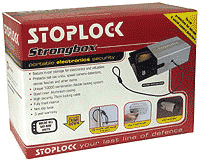 With Police forces throughout the country reporting a huge leap in theft of Sat Nav, GPS, and Radar Detectors securing your equipment has never been so important.
One of the real problems is that if an item is stolen form your vehicle you may be reluctant to claim from your insurance policy, as you will have to pay an excess which may be close to the value of the item anyway. Having a Strongbox in the car could just save you from the inconvenience of having your valuables stolen in the first place.
The Stoplock Strongbox is a strong metal box made from Anodised Aluminium with a slide out inner tray made from Steel. The tray is lined inside to protect your equipment and is large enough to hold all Sat nav systems on the market at present.
With a 75cm cable which locks securely to the box itself the Strongbox should ideally be positioned in the boot of your vehicle and anchored to a cargo mounting point.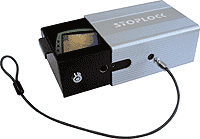 Dimensions:
Height: 10cm (3.9 inches),
Width: 15.5cm (6.1 inches),
Length: 21cm (8.25 inches)
Weight: 3.2kgs (7lbs)
Measurements are approx.
Pretect your valuable Sat-nav, GPS and speed camera detectors with STOPLOCK® Strongbox car safe for in-car protection
High security protection for sat-nav units and high value portable electronics Unique, patent applied for locking system High security cable secures Strongbox to any fixed point in the vehicle An innovative new product to combat a rapidly increasing type of vehicle crime.
More information on ordering a Strongbox can be found here
News articles about Sat Nav thefts:
BBC News - http://news.bbc.co.uk/1/hi/scotland/tayside_and_central/4968344.stm
BBC News - http://news.bbc.co.uk/1/hi/england/south_yorkshire/4796656.stm
BBC News - http://news.bbc.co.uk/1/hi/england/london/4532036.stm
Lincolnshire Police - http://www.lincs.police.uk/index.asp?locID=82&docID=604